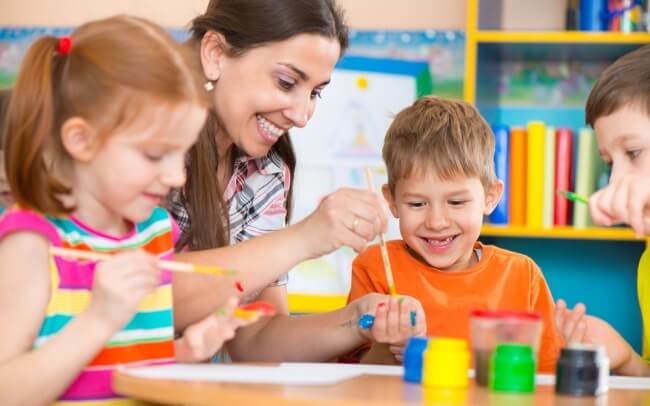 Whether your child spends nine hours every day in daycare or only attends one morning a week, you know you would feel more comfortable if you knew what to look for when choosing a childcare setting. Your community may have few choices, or you may be awash in daycare options, but in both cases, you want to be able to make the best decision possible for you and your family.
Here are some tips for choosing a daycare center.
Know the types of facilities
There are different types of daycare available.
Home-based daycare is run out of the caregiver's home where she may care for her own children or grandchildren as well. Home-based daycares are not always licensed, and the caregiver may have little to no training. Be sure to ask. Also, ask about backup options for when the caregiver or her children become ill.
Group daycare is typically a state-licensed facility run like a school. There are groups of children of various ages. The facility is a business and might be a branch or franchise of a regional or national childcare corporation, or it may be a stand-alone care center based in a church or a freestanding building.
You may wish to start with one type of care and transition to another as your child gets older. Alternatively, you may wish to find childcare that begins with newborns where your child can attend until he or she enters elementary school.
Do your research
First, learn about the requirements for licensure in your state. You can use the list of regulations to formulate questions later.
The best daycare recommendations come from friends and family members who have children in care. Ask people at work, your neighbors, and your pediatrician for the names of childcare facilities they feel comfortable sharing with you.
If your little one isn't here yet, ask other moms-to-be in the OB/GYN waiting room if they have older children, and whether they can steer you to a quality daycare situation. Other places to ask are Mommy-and-Me groups and the playground.
Once you have a few names, check the centers out online if they have a website. Many home daycares do not because they run on word-of-mouth and may not have the technical capability of emailing you your bill or electronically processing your payment. The exception is a home daycare center that is being operated as a business, which may expand to a building or add to the home to create a bigger center.
Look for online childcare referral sites, too. Childcare centers are licensed by the state, so the state regulatory agency for childcare should be able to supply you with information.
Do an interview with the center
Schedule a call with each center to ask questions before coming for a tour. You can narrow your choices by eliminating centers according to your interview information.
Ask about cost, both tuition and application fees. What is the schedule and hours of operation?
Is there a waiting list?
What accreditation does the center have? A state license is no guarantee, but you will have proof the caregiver has met licensing requirements for your state.
Ask how many children are enrolled and whether they are segmented by age group.
Talk about the center's childcare philosophy. You need to be comfortable with the center's policies on feeding, education, soothing, and discipline.
Ask for qualifications and experience of the staff.
Check immunization requirements. These days you cannot presume all children are current on their vaccinations.
For a home-based daycare, ask who will be present with the children besides the caregiver.
These questions clear the way for an onsite tour. You will save time by shortening your list with the interview.
Visit the facility for a tour
There is no substitute for a personal visit. You need to see where your child may be spending its time, and a visit helps you solidify any perceptions you had when speaking on the phone.
Look for cleanliness and safety. State-licensing typically has minimum requirements for safety and hygiene. Especially for the care of non-toilet trained children and infants, you want to know the caregivers practice proper handwashing techniques and dispose of diapers and other trash appropriately.
Watch the staff interacting with the children. Is everyone happy? Are the children given fulfilling activities or are they in front of a screen all day?
Is the ratio of children to caregiver appropriate for the age group?
Are dishes washed in a dishwasher or disposable?
Are the doors locked where they should be and do you see any choking hazards lying around?
How do you feel about the environment and atmosphere of the care facility? If you think something isn't right or your gut tells you not to leave your child, listen to it. Sometimes we pick up on things we can't articulate, or you may not agree on child-rearing philosophy.
Does the center operate efficiently?
Ask how the daycare handles registration, enrollment, and tuition. Childcare software can automate attendance, billing, payment processing, and communications.
Software allows for billing and payment via email or parent portal, providing convenience and accuracy in the billing and payment process.
Childcare management solutions often provide documentation for tax purposes.
If you receive agency subsidies, daycare software can help you and the caregiver ensure payments are received and appropriately allocated.
Meal planning software ensures you know what your child ate and how much, including nutritional analysis of the food consumed.
The daycare can post images, video, and stories of the day's activities.
Calendar-based enrollment is made possible with software. If you want to enroll your child in a variety of additional activities, you can do so online.
If you are like many of today's parents, you may expect to be able to pay online with a credit card or set up an automatic payment. However, do not presume every childcare center has that capability.
---
Choosing a daycare center can appear to be a monumental task, but if you break down your search into steps, and find ways to shorten your list before starting your tours, you will ease the stress of finding the appropriate care situation for your child.