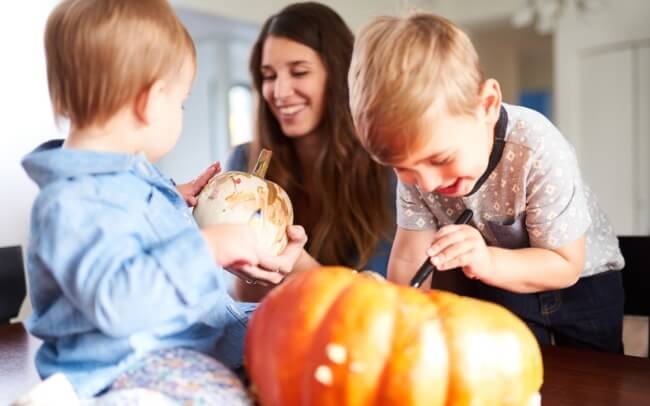 Although it can seem Thanksgiving gets lost in the shuffle of Christmas, to young children it is a fun holiday break with colorful leaves, fall vegetables, and family. Also, Christmas is forever away; why are the grown-ups so worried?
There are so many different activities to learn about Thanksgiving in the United States that a single post may not do them all justice, but we are willing to try.
Look through these activities for age-appropriate fun for the next few weeks and planning for next year.
Stories and lists
Tell a pilgrim story
Ask parents if they know of a Pilgrim ancestor they could share with the class. The Pilgrims arrived at Cape Cod in 1620, and the Plymouth Colony officially lasted until 1692. If someone has traced their ancestry to the landing at Plymouth Rock and can tell about it in language your students understand, it can be a fascinating way to make the connection between something that happened nearly 400 years ago feel real.
By the way, did you know that in the Autumn of 2020, it will be the 400th anniversary of the landing of the Mayflower?
Another way to illustrate what a pilgrim is (besides the people in the funny black hats and buckled shoes) is to ask about the first family member to arrive in a country different from their birth. You can show that almost everyone has a Pilgrim somewhere in their family.
Make lists
Ask your students to consider what they are thankful for in their lives. Have them make a thankful list and decorate it for the holiday. You can create leaves or Turkey feathers from construction paper large enough to write on.
Make a list of books to read that tell of the first Thanksgiving, histories of the Pilgrims and Native Americans, or how Thanksgiving is celebrated across the country.
Introduce foods that were available to Pilgrims and create a list of those the kids have eaten or seen. Then list the types of dishes we eat now in celebration. Compare the lists and make the connection between the kinds of food.

Songs
The ChildcareLounge.com website has a couple of cute Thanksgiving songs set to familiar tunes.
I Eat Turkey (Tune: Frere Jacques)
I eat Turkey.
I eat Turkey.
Yes, I do.
Yes, I do.
Turkey in my tummy,
Yummy, yummy, yummy.
Good for me.
Good for you.
Albuquerque Turkey (Tune: My Darlin' Clementine)
Albuquerque is a turkey, and he's feathered, and he's fine.
And he wobbles, and he gobbles, and he's absolutely mine!
He's the best pet you can get yet, better than a dog or cat.
He's my Albuquerque turkey, and I'm awfully proud of that!
And my Albuquerque turkey is so happy in his bed…
'Cause for Thanksgiving Dinner, we have spaghetti instead.
Art activities
Make a corncob placemat
Gather dry corncobs and roll them in a bit of paint. Then have the children roll the corncob over construction paper to make an interesting pattern. Once it's dry, glue dry leaves or place Thanksgiving stickers around it, laminate it, and use it for a placemat.
Make a potato turkey
Take a break from the pinecone turkey and create one from a potato. Glue real or paper feathers onto toothpicks or small popsicle sticks and press the sticks into a tail pattern on one end of the potato. Create a turkey face from construction paper and secure it with a toothpick to the other end.
Turkey hand and poem
A favorite sure to make a parent's eyes glisten is the turkey hand and poem.
Trace each child's hand onto a piece of brown construction paper and let them cut it out. Allow them to decorate it to look like a turkey with the thumb as the head and fingers as the tail feathers. In the center glue a piece of white paper and have them write the following poem on it.
This isn't just a turkey,
As anyone can see.
I made it with my hand,
Which is a part of me.
It comes with lots of love.
Especially to say,
I hope you have a very happy
Thanksgiving Day!
Games and puzzles
Play turkey bowling
Gather and fill two-liter plastic bottles halfway with sand or pebbles to weight them. Paint the bottles brown and glue on feathers (real or paper). Set them up like bowling pins and let the children try to knock them down with a small ball. (Don't forget to put the cap on the bottle after you fill it with sand or rocks.)
Does your school Kahoot? The popular educational game site has a collection of Thanksgiving-themed kahoots for the kids to play.
Download puzzles from The Teacher's Corner website. They have downloadable crosswords, word searches, and other crafts and activities to keep everyone busy until time for Thanksgiving break.
Snacks
What's Thanksgiving without food? Whether you are making this for the class or inviting parents to "Thanksgiving Dinner" at your preschool, you can find treats that are easy to make that everyone likes.
No bake pumpkin pudding
Have each child mix two tablespoons of pumpkin pie filling with two tablespoons of marshmallow creme and one tablespoon whipped topping. The children learn to use measuring spoons and practice mixing with a spoon.
Turkey toast
With a large turkey-shaped cookie cutter, cut a shape from whole wheat bread. Spread it with peanut butter. Use raisins or chocolate chips for the eye, a slice of gummy worm for the wattle, and fruit loops for tail feathers.
Make your own butter
If you have access to a butter churn, have the children take part in making their own butter. Place whipping cream in the churn and have each child practice churning while counting to 100. You may need a parent volunteer to help hold the bottom of the churn.
Either bake cornbread with the children or bring some from the store to spread the butter on when it's done.
The National Education Association (NEA) website has a wealth of activities for children in grades K- 12. If you have older kids in afterschool care or want more ideas, just head to the NEA website for more.