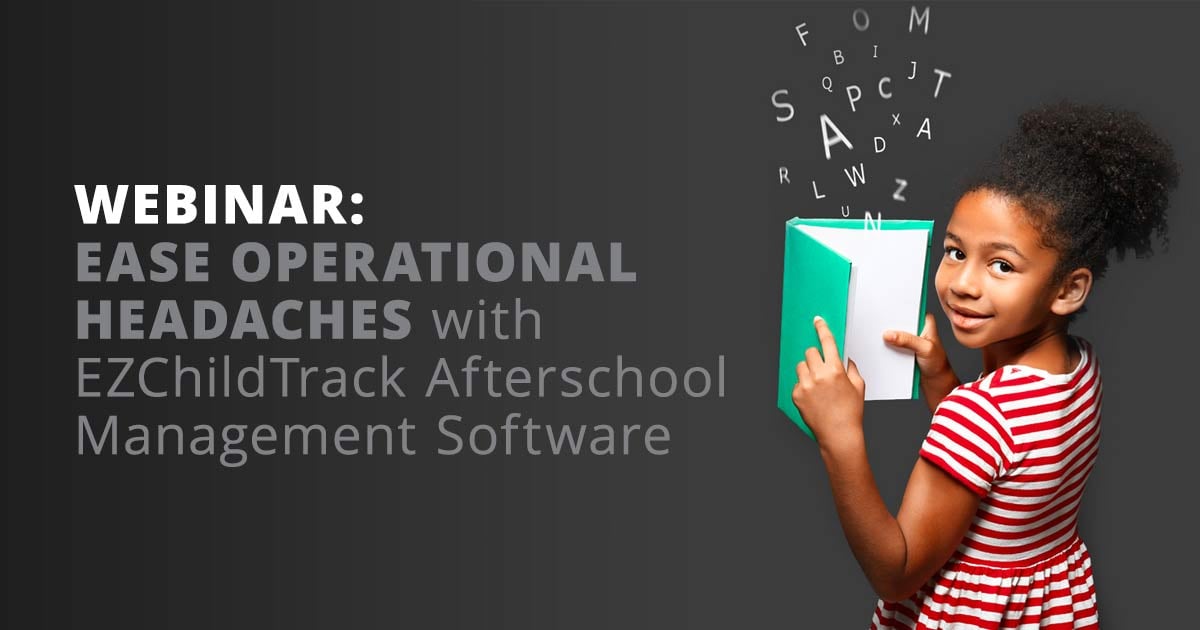 On May 5, 2022, we teamed up with the National Afterschool Association for a live webinar called "Ease Operational Headaches with EZChildTrack Afterschool Management Software."

We gave a sneak peek into EZChildTrack childcare software and how you can use it to simplify and streamline program operations. The webinar focused on finding ways to help your program grow, empower your staff, and provide enrichment opportunities for every student.

We took questions from attendees and wanted to share them with you.
Q. We are a free after-school program and do not require a registration fee. Can the waitlist simply move the next available child to an open spot in this case?

A. Even if a fee is not required, administrators will need to process the waitlist.
Q. What are all the means of communication the system can send to the parents?

A. Email and SMS/Text.
Q. Can the parents add evening care by the week or by the day?

A. Yes.
Q. Can I connect this to our Quickbooks account?

A. Yes, EZChildTrack is integrated with QuickBooks.

Q. Can you make fields mandatory on the registration form?

A. Yes.
Q. Can several staff members log in to use the admin site simultaneously?

A. Yes.

Q. How does staff attendance work? Do they log in to mark their working hours?

A. Yes, they can log their hours through the PIN-based method.

Q. Who is your payment processor?

A. Forte Payment Systems and CardConnect. We can do gross or net funding.

Q. Who controls how emails are generated to parents?

A. The district admin users are able to control that.

Q. What other methods can parents use to sign in or out besides the PIN. Is there an option for facial recognition?

A. QR code, badge scan, and staff recording.

Q. Are two bank accounts able to connect to EZChildTrack? Can a camp have payments go to one API key and an after-school class to a different API key/bank account?

A. Yes, you are able to do this.
Q. I understand that you have Spanish and English languages. Will you incorporate other languages such as Somali?

A. Yes, we are in the process of doing a multi-lingual development to allow all languages.
Q. Can we integrate the software into our website?

A. Yes, a link can be posted to the software.

Q. Is there an app for the program to download on parent phones?

A. The parent portal is mobile-optimized so they are able to access it through their smartphones. A native application is being developed as well.

Q. Can the software be used with ELO programs?

A. Yes, EZChildTrack works with ELO programs.

Q. Can a program just use part of the software?

A. It is a comprehensive software that includes a majority of the features that you see.

Q. Is there a district-level version where we can see all the schools' information?

A. Yes, you will have access to the district interface as well as the site interface.

Q. Can we use this program without the payment portion?

A. Yes.
Q. Do you integrate with SchoolPay or PushCoin?

A. No. We are securely integrated with Forte Payment Systems and CardConnect (a First Data Company) for payment processing.

Q. Does the system automatically add a participant to the program when spots open up?

A. An administrator will have to go into EZChildTrack and process the application for that student to be enrolled.
Q. Is there a limit on the number of users allowed?

A. No.
Q. Can you upload registration from another system?

A. Account demographics and last account balances can be uploaded when you first begin with the software. If additional information needs to be uploaded, then, our support team can assist with that.

Q. What is the cost?

A. The cost is based on the size of your program. We will be happy to email you a quote if you can provide us with that information.
Q. Absolutely. What email can I email with that information?

A. sales@thomaskelly.com. We look forward to speaking with you!
Want even more info?
Learn more about all the features and benefits for your program here.