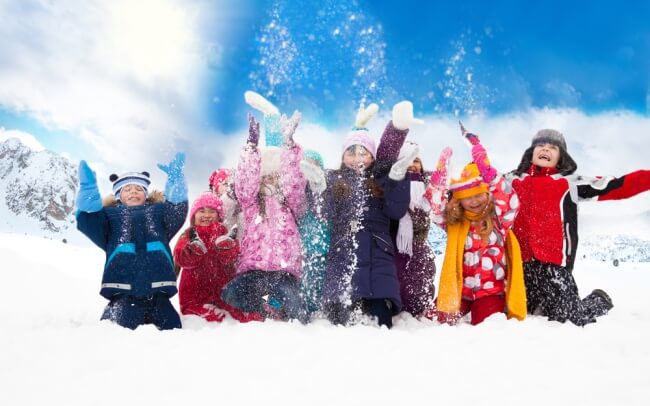 Winter — the time for hot chocolate, cold weather, snow, and the holidays. Your kids are looking forward to it, but it's up to you to keep them safe while enjoying the season.
The little ones need extra care because they can't regulate their body temperatures as well as older kids and adults. Plus, everyone needs an annual reminder of how to dress and play in the winter. Parents need to know when to keep sick children home and how you will notify them in case your childcare facility must close.
Now is the time to take out your winter emergency preparedness documentation and update everything with new guidance for COVID-19 and any fresh insights into playing in winter weather.
Here are some winter safety tips for childcare providers.
Dressing for Winter
Dressing in layers remains the standard for dressing appropriately for cold weather. Multiple, loose-fitting layers of comfortable clothing provide better insulation against the cold. Layers are also more flexible; you can add layers when children get cold and take a layer off if they get too hot.
As a general rule, dress children in one more layer than you do. For cold temperatures, kids should wear a coat, hat, and mittens or gloves. Children lose heat quickly through their heads and hands, especially in the wind.
Have those with playground duty check extremities every 15 minutes at least to be sure they maintain the proper warmth and color.
Playing Outside in Winter
Children need physical movement and should be encouraged to remain active indoors and out. Think of some games to keep everyone moving.
Monitor the playground and equipment. Some pieces may not be safe in the cold. Also, watch for hazards like pools of ice on the ground.
Monitor the weather conditions and follow your state licensing agency's guidance on unsafe temperatures and wind chill.
Holiday Safety
Of course, the holidays are part of the winter season. If you decorate, use care when selecting items to hang up or use. Anything that can fit through the center of a toilet paper tube presents a choking hazard for small children. Keep decorations out of reach.
Use power strips with built-in circuit breakers, and don't plug too many strings or items into a single outlet. Keep cords out of the way behind furniture or elsewhere, and keep decorations and other flammables away from heat sources.
If you have any uncovered wall outlets, use child proof covers to keep the little ones safe.
Illness Prevention and Identification
Create strong illness policies that specify when children and staff should stay home. Illness spreads easier in the winter since everyone spends more time indoors.
Ensure parents know when you might call them to pick up a sick child and insist they adhere to the guidelines in your parent handbook. Anyone who is ill should not be there.
Clean and disinfect frequently touched surfaces daily. Clean any visible body fluids immediately and promote frequent hand washing. Have the children help you decide on a song to sing while washing to ensure they wash for the full 20 seconds recommended by the CDC. Model handwashing technique, so children learn to clean between their fingers and the backs of their hands as well as their palms.
Make it a rule that you must wash your hands after blowing or wiping your nose, leaving the restroom, before and after eating, and in between activities. Hand sanitizer will do in a pinch but watch for allergic reactions or overly dry skin. Also, the hand sanitizer must be at least 60% alcohol to effectively eliminate viruses and bacteria.
You and your staff should demonstrate how to sneeze or cough into your elbow or a tissue to avoid spreading aerosols with virus particles in them. Any tissues should be thrown away immediately after use, and the user should wash their hands.
Masking and Social Distancing
With the spread of COVID-19 this winter, mask and distancing requirements may be set by the county judge or the state. The CDC recommends masks for everyone over the age of two. Exceptions include people who have difficulty breathing or cannot remove the mask without assistance.
Studies show that mask-wearing keeps everyone safe. The wearer is protected from others and protects others from themselves. When used with appropriate distancing and reducing the amount of time spent together, the incidence of respiratory illness goes down significantly.
Pay attention to the number of people who test positive or exhibit symptoms of COVID-19. It's true that most children have a mild form of the illness and may not spread it as easily as first thought, but we are still learning about SARS-CoV-2, the virus that causes COVID-19. None of these safety practices will hurt anyone and may save someone.
Be aware that, as scientists learn more about COVID-19, their guidance may shift. That isn't because it was wrong before, but because they have more data to work with. It's easier to tell what works and what doesn't.
Winter Weather Emergency Plans
It's an excellent time to revisit your existing plans and update them with new information. Not only is COVID-19 an issue this winter, but other guidelines can shift from year to year as new information surfaces.
Make sure parents have resources that tell them what you will do in case of an emergency. What action should you take during a power outage, for instance? When should you shelter in place due to the weather?
Parents definitely need to know how you communicate closures and the reasons you may be required to close. Extreme weather events, guidance from health officials, and a high number of COVID-19 or other illnesses may prompt you to close your facility for various lengths of time.
Check your emergency supply kit as well. Anything used last year should be replaced. Check for outdated materials and update the kit with any new protective or medical items you need for the cold weather.
Cold weather isn't inherently dangerous. It's all in the preparation you make. Dress appropriately (in layers), stay inside when the weather gets too cold, and follow the CDC and state licensing guidelines for healthy practices.
Happy Holidays! Maybe a mask decorating contest is in your future.