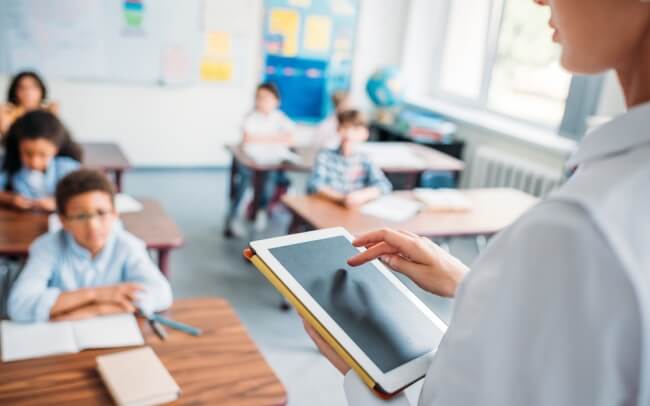 EZChildTrack childcare management software integrates several applications to provide a robust platform for running a childcare facility, summer camp, or after school program. We offer this post of frequently asked questions as a foundation for your childcare solution search.
Do you offer a trial version?
Yes, we do. You can access a free trial of our software without the need for a credit card.
How do I purchase EZChildTrack software?
EZChildTrack childcare management software is a cloud-based solution accessed via a web browser and an internet connection. You purchase access to the software with a paid subscription.
Do you provide training?
Yes. We provide training with live webinars scheduled at your convenience and recorded training videos available within your system. These are included with the subscription price.
What computer and operating system do I need to run your software?
EZChildTrack software is delivered via the internet. All you need is a laptop, PC, tablet, or mobile device with a web browser to access the software. The operating system and device don't matter.
If I discontinue EZChildTrack, can I get my data?
Yes. You never relinquish ownership or control of your data.
Who can see my data?
The only individuals who can access or manipulate your data are those you have authorized to do so. Your information is stored securely within our data center where it is protected with state-of-the-art firewalls and other software as well as physical means.
How often do you update your software?
We always seek to improve our product and provide frequent updates throughout the year. These updates are implemented automatically with no interruption to the service.
Do you notify clients about downtime and system updates?
Yes. If for any reason, our system is unavailable we will notify all our clients and keep you informed of the issues and when the software is expected to be available again.
Our service level agreement includes guarantees from Rackspace Inc., one of the largest hosting companies in the world. The web servers and database servers are separate. Any issue with one should not impact the other. All maintenance takes place during off-hours to minimize disruption.
What support do you offer?
EZChildTrack offers phone support from 9am to 5pm CST, and online support is accessible 24/7.
How secure is my data?
We take the security of your data very seriously here at EZChildTrack. We understand that our reputation is linked with our level of service and implement a host of protective measures to keep your data secure from attacks and breaches.
Do you back up my data? Can you recover data after a disaster?
Your data is backed up to remote storage and can be reloaded in the event a disaster strikes our primary servers. Rackspace, Inc., our web and database hosting company, performs full backup weekly and incremental backups daily. Incremental transaction logs on the database server are backed up hourly.
Are you in compliance with governmental data security requirements?
One of the many reasons we update our software frequently is to include any changes to governmental requirements including data security. We know you depend on us for your own compliance efforts and we strive to keep EZChildTrack fully compliant.
Do you offer online registration?
Yes, EZChildTrack offers a secure Parent Portal through which your clients can register and enroll their children in your program as well as pay fees and tuition.
Can I use mobile devices with your software?
You can access your account via a web browser from any device. In addition, we provide an iPad interface for recording attendance to eliminate paper rosters and avoid manual data entry.
Can I create one-time charges?
With EZChildTrack you can charge weekly or monthly tuition as well as one-time registration charges and automatic late payment or pickup fees.
What types of reporting do you offer?
EZChildTrack provides a report generation tool that allows you to customize the reports you need. We also have 50+ pre-designed reports to meet your program's needs.
Can I invoice and process payments online?
Yes. EZChildTrack provides automated invoicing, billing, and payment processing via a secure Parent Portal. Your clients receive notification of billing and can complete the transaction online. EZChildTrack accepts multiple forms of payment including e-checks and credit cards.
Parents can register for automatic recurring payments or pay as they go. You can set the billing and payment due dates.
Does your solution track and manage subsidies?
Yes. EZChildTrack's agency accounting application helps track and manage billing and payments from agencies that provide financial assistance for childcare. You can automatically generate invoices for an agency and maintain separate accounts receivable for agency payments.
It also helps automate enrollment into activities with the appropriate subsidized fees based on the agency-approved subsidies. You can even transfer the agency balance statement to parents or for a write-off.
How long has your company existed?
EZChildTrack was founded in 1996, so we have been in business for more than 20 years. Over 5,000 schools, daycare centers, and summer camps take advantage of the benefits of EZChildTrack childcare management software.
What is cloud-based software?
Cloud-based software, also known as web-based software and Software-as-a-Service (SaaS), is provided via a web browser and an internet connection. Instead of being installed on an individual computer or server, you can access all the features of EZChildTrack using any device that has a browser.
Cloud-based solutions are paid by monthly subscription, enabling you to stop and start service, rapidly scale or decrease your needed usage, and updates are installed automatically.
What options do I have for taking attendance?
EZChildTrack offers several methods for taking attendance, including:
On-screen check-in and check-out

The use of a barcode scanner

The use of a badge or smart card reader

Printed rosters and sign-in sheets
The software also automatically charges for late pick-up, adding the amount to the parent's next bill. EZChildTrack childcare management software has features for recording attendance by activity and multiple child drop-off and pick-up. Staff attendance is tracked as well, simplifying payroll.
Can I use this solution for business planning?
EZChildTrack provides a variety of financial and operations reports that can help you make decisions in real-time for daily operations and for future business growth and change.
Do you have other questions?
Please feel free to contact us if we have not answered your question. EZChildTrack staff is happy to speak with you about our product and service. We would love to add you to our family of users.