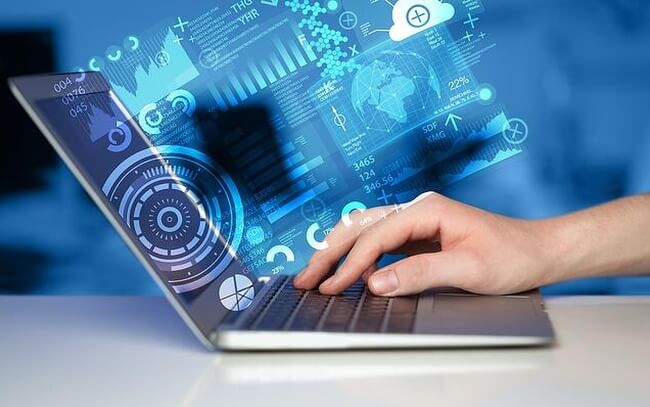 The term "cloud-based" software is ubiquitous these days, but it may not be clear what that means. The term is used interchangeably with SaaS (Software as a Service) and "web-based" software, which is a bit more self-explanatory.
According to Business Wire, 87% of companies experience business acceleration from their use of cloud services. Developing an understanding what cloud-based software is and the benefits it provides to you as a childcare provider are the goals of this post. What does cloud-based childcare software really mean?
Defining the Term
Merriam-Webster has a definition for cloud computing:
[The] Practice of using a network of remote servers hosted on the internet to store, manage, and process data rather than on a local server.
Unless you are in IT, maybe this definition falls a little short.
A server is a specialized type of computer that handles data storage, processing, and management. Data centers house multiple servers, which are placed in racks in a special climate-controlled room or building.
A group of servers that communicate with each other is called a network. The Internet is one giant network made up of smaller networks.
Internet hosting is a method of making the software on the server available for access via a web or Internet browser like Mozilla Firefox, Google Chrome, or Microsoft Edge (replacement for Internet Explorer).
A remote server is one that is located somewhere other than your facility. A local server is one that is located at your facility for your specific use. (Software installed directly onto local servers or your computer is called "on-premise" software.)
"Cloud" is just another term for network; the idea is that the network lives in the clouds and you access software installed on servers by using any device equipped with a web browser. Now that Cloud Computing 101 is out of the way, we can discuss the benefits of cloud-based childcare software.
Benefits of Cloud-Based Childcare Software
Cloud-based childcare software provides a host of advantages that benefit your operations. From access independent of a specific computer or local network to care-free maintenance, cloud-based software is well on its way to becoming the primary method of interacting with software applications and packages.
Software applications are no longer loaded onto individual computers or local servers from a disk, nor are complete programs downloaded to your computer.
You access the application through the software's browser-based interface with a secure log-in name and password.
Once you access the application, you can work with the software just as you did when the program was on your computer.
Here are more benefits of using cloud-based childcare software.
Anytime/Anywhere Access
Since you can access the software through a browser, you are freed from your desktop computer. You can use any device to access and manage your files and data, any time you want, from anywhere you have an internet connection, even a mobile one.
Anytime, anywhere access is one of the biggest benefits of cloud-based childcare software. You can use your laptop, smartphone, tablet, or desktop computer without being tied to a single device or location. If you have multiple facilities in operation, you can centralize your data processing tasks through the cloud-based software, reducing redundancy of effort and data.
With the improvement in mobile networks pushing access speed using to 4G, 5G, and LTE, you will have no problems with delays in accessing and working with your software solution.
Real-Time Processing
Updates made to any file or data are completed in real-time. If you have input data from your office computer that comes from a facility in another neighborhood, city, or state, the changes are immediately available to all locations.
Another benefit of real-time processing is that multiple users can use the software at the same time. Some cloud software applications can handle hundreds or thousands of users at one time. All updates are available as soon as they have been made. Cloud-based software makes collaboration easy.
Cost Savings
As we mentioned earlier, cloud computing removes the need for local servers. What that means for your operation is:
You are no longer required to purchase, install, and maintain IT hardware or software on site.
You do not need to hire an IT staff.
You do not need to purchase expensive upgrades and updates.
The software vendor provides automatic updates whenever the software requires them. They are part of the subscription you pay for monthly or annually. The subscription typically includes a set amount of service and support from the vendor to help you with application implementation and issues.
A Note About Security and Up-time
You may have heard stories claiming cloud-based software is less secure than on-premise solutions. However, it's been shown that, in many cases, the security of cloud-based solutions is better than a traditional IT system.
If your computer or laptop is stolen, there is no loss of data or breach of your information (unless the thief knows your log-in information).
A 2012 study by Alert Logic shows that on-premise software experienced an average of 61.4 attacks while cloud-based software averaged 27.6. (And cloud-based security has only improved in the last half-decade.)
Providing a high level of security is the top priority of cloud vendors; without tight security, their business would be ruined.
Also, reputable vendors contractually guarantee 99.5% uptime; you should accept nothing less. You should also ask the vendor where their data centers are located and the kind of disaster process they have in place to ensure your data can be saved or recovered in the event of a catastrophe.
What does cloud-based childcare software really mean? It means freedom from the high costs of hardware and IT staffing, freedom from delays in information updates, and (most importantly) freedom from your office.
Cloud-based childcare software lets you monitor multiple facilities, make and obtain updates in real time, collaborate with any other users, no matter where they are, and access your files anytime you need. Your data is stored on a server with the type of security you could never achieve with on-premise software and an IT staff.
Cloud-based childcare software really means peace of mind and flexibility for you and your staff.