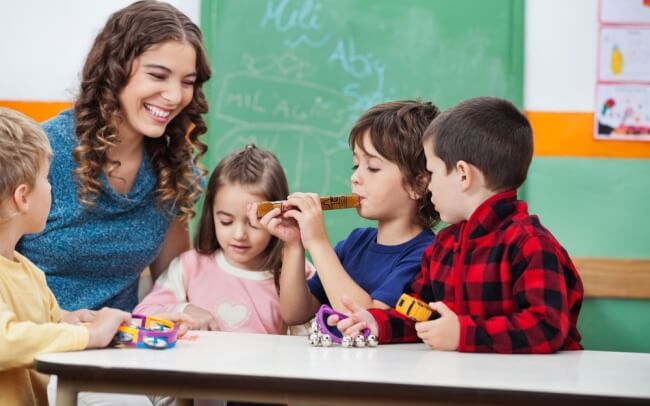 Data from a Reader's Survey from ChildCareExchange.com showed that technology use continues to increase among childcare providers and business. Childcare providers use technology for accounting, information storage and management, security, business analytics and regulatory compliance.
The survey information is from 2003, 15 years gone. Imagine how much further technology development and use has progressed since then. Yet, the information from the survey still holds true in many cases. The highest level of technology use is found in multi-center, for-profit childcare chains while the lowest use is found in family childcare programs.
It is reasonable to think that a large enterprise would leverage the efficiencies created by various software applications and that they would use all available tools in an effort to maintain or increase profitability. The home-based childcare business typically used few of the available tools, and even now it is likely that trend continues.
As it turns out, the effectiveness of technology use is determined by access, affordability, and the technological literacy of the administrators, staff, and teachers. If you or your administration has been reluctant to fund the purchase of hardware and software to use in your facility, the rest of this post will supply the justification for the cost as well as the reason for implementing one or more of the available solutions.
Program management
Without adequate program management, a childcare facility will be hard-pressed to remain competitive. Attempting to manage a growing program using paper tools or outdated software applications is an exercise in futility. Too much administrative time is spent in busywork, manually recording and entering information, filing, creating storage, and other repetitive tasks to allow you time to work on growth.
The survey mentioned above showed that the most common use of technology for program management was for accounting and financial management.
Secondly, database software for storing and manipulating records was another important use of technology.
Online purchasing, security, and business analytics rounded out areas where technology facilitated administration and automated tasks.
All of these practices are available for any size childcare practice. Why shouldn't smaller facilities and home-based childcare take advantage of these applications? There is software available for any size business. While everything listed sounds like something for big companies, the home-based facility can also leverage the same technology.
Financial management and accounting software has been around for a long time and includes versions especially created for small business and the self-employed. Often, the solution contains billing and payment processing automation.
Most of today's childcare management software includes a database for storing records on your students and their parents. Many are capable of providing notifications of expiring or missing information and running reports.
Security has become indispensable in an era in which child safety is paramount. Software solutions store security images, provide streaming services for parental peace of mind, and handle access and security monitoring.
Easily accessible information about meal planning, staff and room availability, and daily attendance informs decisions about the efficient use of resources in real time, decreasing waste and streamlining operations every day.
Regulations continue to grow and change at an ever faster pace. It is becoming impossible for the small business owner to keep up with changes and comply without the use of technology.
Above all, business analytics is a necessity in a fast-moving, competitive environment. Even a business run by a single person with a small number of children needs the power of technology to maintain financial balance, comply with regulations, and access the information that can improve business.
Advances in software and computer technology have been instrumental in gathering all of these applications under the umbrella of a single software solution. In 2003, that may not have been the case. Facilities struggled with individual applications that were not necessarily compatible or interoperable.
Now, not only are there multiple integrated solutions to choose from, you can determine how you want to purchase and access the software.
Classroom teaching
Using technology in the classroom is not limited to off-the-shelf educational software and exercises. The burgeoning use of the internet by teachers and curriculum planners continues to enhance academic learning as well as teach children how to identify authoritative sources and avoid involvement in unsavory schemes or relationships.
Virtual field trips, videos of experiments, and a wealth of other material are available to children who have grown up with technology and need to learn the best ways to use it and control their consumption.
It is unrealistic for childcare providers and schools to ignore the impact of the internet and technology on children's lives in this time. Instead of attempting to eliminate it as some sort of damaging fad, it is much better to use and apply technology effectively as a tool.
Professional development
Just as technology can enhance children's learning, professional development for teachers, administrators and staff is enriched with technology. From training videos to learning new ways to leverage technology in the classroom and business, software applications and technological devices already embedded in our lives are harnessed to improve every kind of skill.
Beyond learning with technology, teachers and administrators can use technology to collaborate and communicate about best practices. Staff can network and create new methods of teaching and build inclusion.
Communication and customer service
The most significant improvement technology has made (although it is sometimes the bearer of misinformation) is in the realm of communication.
Technology allows childcare facilities to communicate rapidly with parents. Via email, online parent portal, social media, and other electronic communication, parents and caregivers engage and respond in real time or near real time.
Parents use smartphones to receive notifications about their children, learn of issues at the childcare facility, or to view and share images of their children. They can access the in-classroom security camera anytime to see how their child is fairing.
Teachers share accomplishments and reminders across the same device. Technology even drives efficient drop-off and pickup procedures as more schools and daycares use smartphones and tablets to receive children and send them home with the right people, eliminating backups at the door as parents hunt for a specific sign-in sheet.
Parents know they can get answers to their concerns and questions quickly and at any time of day. Facilities that offer this type of customer service receive higher ratings than those with limited communications.
Marketing
No business in any industry can hope to compete without a website to attract new clients, providing them with information and content showing why your facility is the best one for them and their children.
Childcare management solutions provide internet and email access as well as private portals where parents can make payments and update records. Technology also gathers analytics about lead generation and automatic responses to potential customers.
---
Childcare management software solutions contain most, if not all, of the tools mentioned in this post. There is a solution for any size business, and small business does not have to do without enterprise technological might. Technology in the childcare industry is transforming and streamlining the business side while providing more resources for the childcare side.