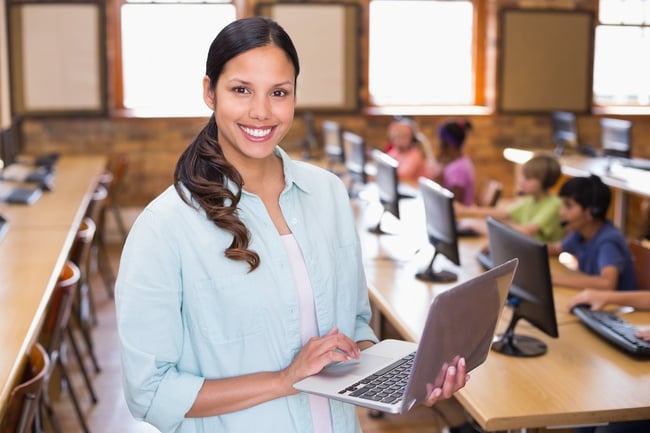 The owner of a childcare management facility wears many hats, just like any other small business owner. The accountant hat may be one of the most time-consuming and least liked of them all. However, using a software solution that combines all the required applications for invoicing and billing, accounts receivable, accounts payable, payroll, and general ledger can streamline your bookkeeping process while reducing errors.
Here are the many ways an integrated accounting and billing solution can benefit your childcare center and why a single solution outperforms manually tracking your records or trying to adapt standard business software to your specialized purpose.
Billing and Invoicing for Childcare Centers
Billing and invoicing (essentially the same thing) is where the money literally comes in. Automating the invoicing process saves time and reduces the chance of human error such as entering incorrect information or neglecting to send a bill.
The accounts receivable application draws information from the central database to complete the addressing and itemized listing of services. The bill is then emailed to the recipient, saving you the price of paper, an envelope, and a stamp. Alternatively, some systems can print the bill for mailing.
You can automate cyclic billing, late payment and late checkout fees, and other invoicing based on enrollment and attendance. The system can be set to a fixed schedule or a variable schedule. You can also create invoices ad hoc or for one time billing. Service periods are customizable and a pro-rated bill is easily calculated based on the enrollment date.
Other automated tasks include:
Marking accounts delinquent on a predefined threshold by dollar amount or days overdue
Suspending accounts based on a predefined threshold by dollar amount or days overdue
Posting late fees as a percentage or fixed dollar amount
Track deposits
Project revenue
Invoices are batch printed or batch emailed. Parents receive an itemized statement that includes all the transactions for each child in care. Automated email billing often decreases the amount of time you wait for payment, and many parents appreciate the convenience of online payment options.
You can perform all invoicing from a single screen in your accounting software. Once the software has been customized and set to your preferences, invoicing takes just a few minutes as opposed the hours you would spend with manually written and calculated ledgers, invoices, and deposit slips. It also saves updating multiple spreadsheets every billing cycle.
Payment Processing
Payment processing for childcare facilities can be just as much work as billing, if not more. Co-payments and subsidized payments from government agencies can add complications to the process. Since payments do not arrive on a single date, automating your payment processing helps you keep up without letting anything slip through the cracks.
By integrating electronic payment processing with credit card payments or checking and savings accounts drafts, you increase the speed of your collections. You don't need to take deposits to the bank, saving you a trip as well. Payment processing becomes more convenient for you and your clients.
More parents expect the ability to pay online with either a credit card or electronic transfer. Automated payment processing provides the framework for sending a bill, receiving payment, processing payment, and depositing money to your company bank account.
With convenient electronic payment, you will find yourself requesting fewer late payment fees and your cashflow is easier to track and you reduce much of the data entry work for you or your bookkeeper.
You can also keep closer track of late or missing payments through the use of an aging report that shows delinquent accounts. You can customize when accounts are marked delinquent. You can base delinquency on a predefined threshold dollar amount or by the number of days a payment is overdue. You can even predefine when an account should be suspended using the same criteria.
Time-Keeping
Keeping manual attendance or employee timesheets is tedious and time-consuming as well as fraught with the potential for errors. Stamped timecards for employees do not usually calculate total hours worked and certainly do not lend themselves well to staff attendance management.
Automated time-keeping software reduces the chance for error as children are checked in and out. If you use fingerprint or biometric scanners, employee and child attendance is simplified even further. Electronic attendance numbers are stored and used to calculate overtime, late pickup fees, and activity attendance and fees.
If you have a client with multiple children in your childcare establishment, automated attendance and time-keeping becomes even more convenient. Parents and caregivers will not need to sign multiple sheets or take additional time during crowded drop-off and pick-up periods.
Other Benefits of Billing and Accounting Software
Specialized software for billing and accounting customized to the childcare management industry is easier to work with than most standard accounting packages. It is designed for the non-accountant with a user-friendly interface with easy to learn and use features for daily operations.
Once the solution is set up with your data, it's simple to keep it up-to-date with just a little administrative work each day.
Manage all billing functions from a single screen
Print invoices, individually and in batch mode
Make full or partial refunds to an account
Manage bank deposit statements
Receive payment status and other updates by email
If you offer activities that require additional fees, accounting software provides an easy way of keeping track of children who take part in those activities and adding the cost to the parents' monthly bill. With the reduced paperwork, you may be able to offer more activities to appeal to a broader variety of clients.
Using a cloud-based service provides added security because cloud vendors understand that their most important function is keeping your sensitive data safe. Using a cloud-based service also relieves you of the need for information technology infrastructure and staff.
Cloud applications allow you to access and work with your solution anytime, anywhere, using any device. Accounting and billing software is just one part of a comprehensive, integrated childcare management solution you can use to increase productivity and efficiency while providing top-notch care.