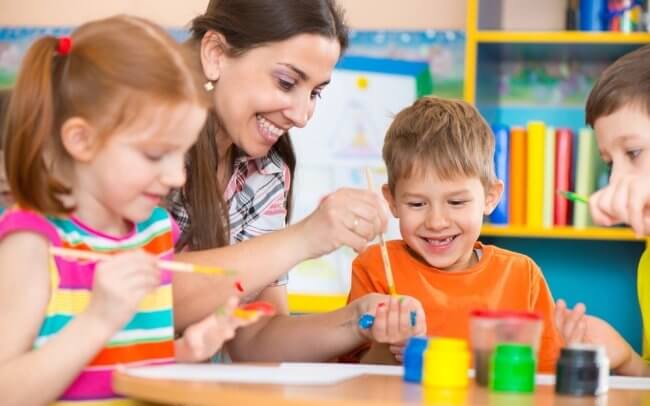 One of the most difficult challenges in running any business is managing the employees. Turnover in the childcare industry is one of the highest across all business segments and is an ongoing problem for childcare services.
Turnover is disruptive for the business, obviously, but it is even more so for the children. High turnover of employees a childcare facility can be associated with poor developmental outcomes. You need and want to hire the best caregivers and teachers as possible and retain them for stability and consistency.
How do you attract such candidates and how can you learn enough about them to make an intelligent choice in hiring? Once you hire someone, what needs to happen next?
Child-to-staff ratios for childcare centers
According to the American Public Health Association (APHA) and the American Academy of Pediatrics (AAP), the following child-to-staff ratios are recommended based on the age range of the group.
| | | |
| --- | --- | --- |
| Age Range | Maximum Group Size | Child-to-Staff Ratio |
| 0 to 24 months | 6 | 3:1 |
| 25 to 30 months | 8 | 4:1 |
| 31 to 35 months | 10 | 5:1 |
| 3 years | 14 | 7:1 |
| 4 to 6 years | 16 | 8:1 |
The above table contains recommendations. You may wish to consider following these recommendations unless your state law provides more stringent requirements.
Characteristics and qualifications that make great childcare workers
Your state laws and regulations may govern the minimum educational attainment, certification, and licensing requirements for childcare workers. You are free to set stricter ones if you wish.
Those who go into early childhood education and caregiving tend to be social and artistic. They like to work where they can assist others, nurture development, and be of service. They avoid working with data, objects, and machinery. Many caregivers thrive in a less structured environment, which certainly describes any place with small children.
In general, you will want staff with an understanding of child development and some training in early childhood education. You also want people who are responsive and sensitive to all the children in their care who can discipline fairly without trauma to the child.
Look for skills in implementing play and instructional activity for groups of small children who tend to be strong-willed and energetic.
Attracting and finding talent
Finding the right employees is a universal challenge, no less so for early childhood education and caregiving. Your best resource is already nearby.
Ask for referrals from your staff and parents, offering generous referral bonuses for new hires that stay with your facility for at least six months or a year. If you have part-time caregivers on staff who are studying at a local college, ask them to let their classmates know you are interested in hiring someone.
Job fairs, social media, church and community bulletin boards, and school placement offices are all excellent places to post job openings and find assistance in recruiting. Local ECE programs are the most likely to contain the appropriate candidates.
Online tools to help you find employees include:
LinkedIn
Indeed
Careerbuilder
Employment opportunity page on your website
Here's a hint: Always be recruiting, even if you don't need anyone right away. Build and maintain a file of potential employees at all times, so you have an immediate resource when your business expands or one of your staff leaves.
Centers with solid policies and a welcoming environment draw the best candidates. If your facility has a great reputation, word gets around to those who are looking for an exceptional workplace.
If you offer fair pay and benefits, flexible scheduling, and professional development opportunities, you will be head and shoulders above many of your competitors when it comes to attracting the best to work for you. Talented workers like to have growth opportunities that build on their strengths and help them develop their skills.
When you describe the position, be specific about what you want: someone energetic or someone calm, specific training or background.
To eliminate frivolous applicants, make potential candidates work a little for their application. Ask for a resume, detailed cover letter, and professional references. Request that they answer specific questions online or in the cover letter. Challenge them to tell you why you should hire them specifically.
Those who don't want to put in the effort will not complete the application. You can also easily discard the applications of those who cannot follow directions.
Interviewing potential employees for your childcare facility
Split your interview process into three stages and select a team to help you with those who make the short list.
First, conduct a screening interview, on the phone or briefly one-on-one. Online behavior assessment applications can help you screen candidates. These tools ask open-ended questions and can uncover the candidate's motivation for applying and any underlying issues with drugs, theft, lying, and hostility.
After narrowing your candidate list, have your team interview each candidate. Make sure every team member has a chance to ask a question or two. Now is a good time to do a little role-playing to see how the candidate reacts to problematic behavior from children and how well he or she communicates with parents.
Of course, before you make any offer, verify any licenses, certifications, and references the candidate gives you.
On-boarding new childcare employees
Once you hire a new employee, you need to provide a decent orientation and training program.
Provide a tour of the facility
Discuss your philosophy of childcare
Provide the names, ages, and developmental needs of the children who will be in the new employee's care
Communicate your policies on communicating with parents and others outside the facility
Share security procedures and occupational health hazards for caregivers
Promote general health policies and techniques for activities such as hand washing, diapering, food preparation, child abuse detection, and detecting illness
Thorough training and communication from the beginning will give the new employee the confidence needed to succeed at your center.
Temporary employees
When a staff member calls in sick, what do you do? You need to provide a consistent and familiar presence for the children. Your first resource should always be someone from in-house to act as a substitute.
If that is not possible, create a list of resources for getting last minute substitutes. Talk to the local school about the subs they use for pre-K and kindergarten. Ask around your childcare network and solicit your employees for the names of people who can fill in for a day or longer if needed.
---
The responsibility for providing a safe environment and quality teachers in an early childhood educational setting is enormous. Use your social and professional networks as well as current employees to help you identify, hire, and retain employees that uphold your childcare philosophy, be great with your kids, and help you create a nurturing environment for everyone.