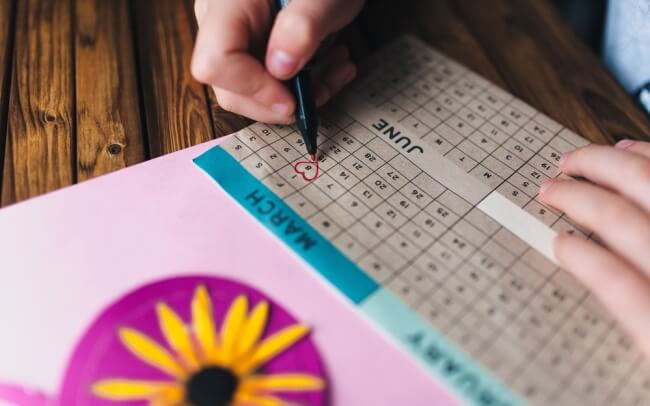 EZChildTrack offers calendar-based enrollment, where parents can enroll their child in your program or into a special activity online. Calendar-based enrollment allows parents to enroll through the Parent Portal. Automating the process means you can accept anyone into any class or program at any time with seamless, automated billing.
Here are just a few of the benefits of the EZChildTrack calendar-based enrollment application.
Easy Access for Parents and Staff
The calendar is accessible to parents through the parent portal.
Parents access the portal and review the calendar.
They select a date for their child to begin attendance or choose a special activity you offer outside the regular curriculum.
Billing is automatically prorated for those enrolling in the middle of a period, or the parent can pay online at the time of enrollment into special classes.
Alternatively, the added fee for a special activity is automatically added to the weekly or monthly invoice to be paid later.
Parents have the advantage of enrolling from home or their mobile device. You have the advantage of nearly instant payment for services.
Staff can access the application as well. If you do not offer online access for parents, your staff can access the calendar and enroll children on behalf of parents. Or you can offer a terminal for parents to use.
At all times, you can access the application yourself anytime, from anywhere, with any device. Adding new activities and monitoring enrollment is a snap.
Read more about the EZChildTrack parent portal here
Flexible Scheduling
Calendar-based enrollment provides the ability to offer flexible scheduling. Not every parent can wait for the first of the month to start his or her child in preschool. They may need to begin in the middle of a month or even the middle of the week.
Automating the process of registration and enrollment combined with calendar-based enrollment makes the process easy to perform and seamless from your end. There is no additional staff time required to sign-up children, calculate prorated payment, or take payment at the front desk.
This flexibility also benefits your business. You can add new activities and begin them anytime. You can schedule ahead by months so you can market your new class or you can add them at the last minute while still receiving payment promptly.
Parents will love the ability to enroll their child for added enrichment activities, pay for them online, and drop their child off knowing it's all taken care of. Online payment sends the revenue straight into your account without the intermediate steps of taking checks to the bank and waiting for them to clear.
Structured Management of Enrollment Details
Providing classes via calendar-based enrollment provides a visible structure for tracking and maintaining activities. You can prepare the calendar weeks or months ahead of time and parents can see what events are coming up that their child might enjoy.
Your calendar can also note daycare closures on holidays and hours of operation. Split the days to offer morning and afternoon care along with all-day care, or accommodate drop-in care on days with special classes.
You, your staff, and your clients have only to look at the calendar to get an idea of the things in store for the kids over the next few weeks or months.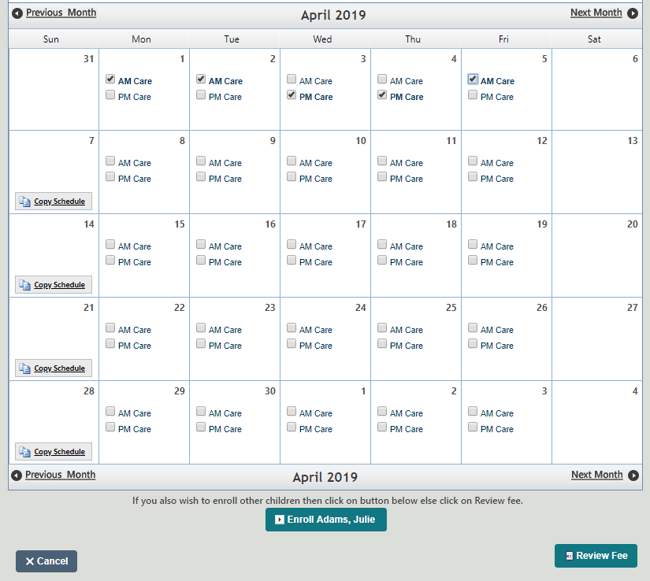 Online Payment
Most businesses today keep little cash on the premises, and fewer clients pay by check. In fact, the expectation to pay with a credit card or online has grown over the past few years. So many people pay for groceries and other items via debit card or shop online that filling out a check is a rare occurrence.
By offering online payment, you benefit both your business and your clients.
Clients enjoy the convenience of immediate payment via credit card, debit card, or electronic check. If they desire, they can use a bank draft.
Your business receives funds quickly to cover the enrollment or new activity.
You no longer need to make trips to the bank or manually add payments to the client's invoice.
Funds can be sent to the appropriate accounts immediately.
The app makes it extremely difficult for anything from a document to a check to fall through the cracks. You save yourself administration time and have more time for the rest of your business.
Define Separate Rates and Discount Types
Nothing could be easier than using calendar-based enrollment software to manage separate rates and discounts automatically. Once you set the parameters, the software takes care of the rest.
For example, you can offer a discount for the first three months of enrollment. The regular tuition kicks in automatically at the fourth month with no intervention from you or your staff. You can even set up a notification to the client that the fourth invoice will reflect the change.
For established clients, you can offer a discount on the first use of a new activity or service. Also, you can offer different discounts based on the number of children from one family enrolled at your facility.
Set different rates for various additional activities and let the system manage and monitor the various charges. If you have clients receiving subsidies, you can easily track agency payments and credit them to the correct account. The invoice is automatically reset for the balance.
Calendar-based enrollment integrated into childcare management software offers multiple opportunities to create custom billing, add or subtract activities, provide discounts, and perform other administrative duties requiring no further intervention from you.
Fee Collection Upfront
One of the best benefits of calendar-based enrollment is the ability to collect the fee in advance of the class. If you offer a special enrichment activity, calendar-based enrollment, and online payment ensure you have the funds ahead of time to pay for special programs, supplies, transportation, and other considerations.
For an all-day field trip, you can collect fees for transportation, meals, tickets, and other items required for the day. Then you will have ready cash to pay in advance for services you need for the field trip, and you can pass along group discounts to your clients.
Calendar-based enrollment provides numerous benefits for you, your staff, and your clients. The ability to pay for it all online offers endless convenience for parents and your business.
You enjoy seamless, immediate payment ahead of the activity. Your cash flow remains steady, and you no longer need to worry about paying out of pocket when a parent forgets to hand over the check.