Parents are the most critical part of the village it takes to raise a child, and even though parents entrust their children to another part of the village for several hours a day, they still want to be able to connect and understand that part of their children's lives.
Parent engagement applications are essential components of childcare management software that help you meet the need for parental communication and interaction. These applications offer the ability to access student information, receive rapid communications about each child, and improve parental understanding of school policies and how they are administered.
Overall, parent engagement software increases the ability for parents to interact positively with their children and the educational and care facility that provides a safe space for them to grow.
1- Increased Parental Interaction in a Child's Education
Parents are a child's first and most effective teachers. Infants begin learning from the moment they are born and continue to evolve their understanding of the world every moment. When parents seek outside care for their children, they still need to know what is being taught so they can reinforce that learning in the home.
Researchers have identified the holistic benefits of parental involvement.
Parental involvement had a positive impact regardless of ethnic, socioeconomic, or parental educational background.
Homework is completed more consistently and with better results.
Children are more disciplined and motivated.
Fewer children are placed in remedial classes.
Parent engagement software places all the resources needed to help children continue their educational journey within easy reach. Parents take more initiative and feel included in the learning process. At a time when parents are feeling disconnected from the classroom, parent engagement software offers a bridge between the teacher and themselves for the good of the children.
2- Rapid, Real-Time Communication
Today's parents are increasingly on edge, with news reports of danger coming into their schools. The ability to rapidly communicate any message from a forgotten lunch box to a school emergency plays a powerful role in parental comfort and confidence in your ability to keep their children safe.
Regarding daily operations, parents (and their children) are no longer satisfied to wait for the end of a grading period to learn about any lack of progress. As the public schools create rules about the length of time allowed to retake a test or turn in homework, real-time communication of grades, calendars, and assignments becomes a necessary part of the school day.
Parents expect to receive texts about immediate needs and of their child's behavior.
Parents need to feel that they can interact with the teacher and the school at any time.
Parents want to access their child's records and update them at a moment's notice if needed.
Many parents experience rapid communication with their work colleagues and have the same expectations of communicating with the school and their child.
3 - Access to Resources and Updates
A parent portal is an ideal container for everything involving a specific child. A secure informational environment allows parents to access updates on their child's work and to draw on resources recommended or used by the school to continue learning at home.
Textbooks are becoming a relic of the past but parents, as well as children, still need to understand what is being taught and how. Anecdotal evidence of parents being told they are wrong for teaching their child a particular technique that appears at odds with the teacher's method drives a wedge between the parent and the school.
Placing resources in the hands of parents where they can be accessed anytime eliminates the issue and helps parents understand how information is being presented in today's educational environment.
In addition to providing space for educational information, parent portals allow parents to update immunization records and other information from home at a convenient time.
4 - Increased Understanding of Policies and Practices
Parent engagement software provides readily accessible information about your facility's policies, practices, and procedures. This is information formerly included in a printed "Parent Handbook," provided at the time of enrollment. Any updates or changes to the information relied on parents to gather all documentation and make substitutions.
Hard copy documents are snapshots in time that may or may not be updated promptly, if at all.
Many parents misplace or lose copies over the course of the school year, forcing them to request another along with the concomitant usage of resources.
That copy will remain unavailable to the parent until they can pick it up from the facility or receive it from their child.
Beyond access, parents and teachers can easily discuss how policies are applied, and processes flow as it pertains to each child. Parents want to feel their children are treated fairly and kept safe. If there is a disagreement about the implementation or application of a policy, an up-to-date copy is always available for both parties to read and contemplate.
If there is a question about anything that occurs during daily operations or if a parent simply wants to know how policy is administered, parent engagement software facilitates the interaction, allowing the teacher or administrator to draw from the online resources and describe how a policy is implemented.
Parents are not always aware of the issues faced by childcare facilities, including state licensing requirements, which form the basis of some childcare processes. A copy of the regulations and a description of how your facility complies with them can aid understanding between parents and childcare facilities.
---
Above are four important benefits of parent engagement software, often part of a suite of applications within a childcare management solution. It may go by the name "parent portal" or as a communications package, but in any case, the software keeps parents in the loop about their child's daily activity and progress as it happens. It allows both teacher and parent to send quick responses as well as discuss issues at a convenient time and place for each.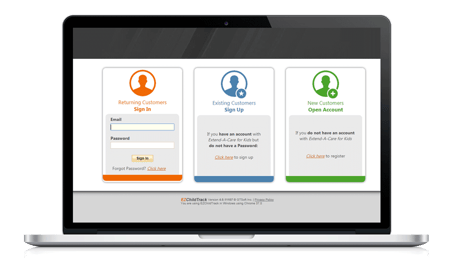 Teachers can make a request during the day while the parent responds after work hours. Parents can send and receive last minute notifications. Children know everyone is watching and rooting for their success.
The village is on the same page when it comes to caring for those who are growing into their place in the world.