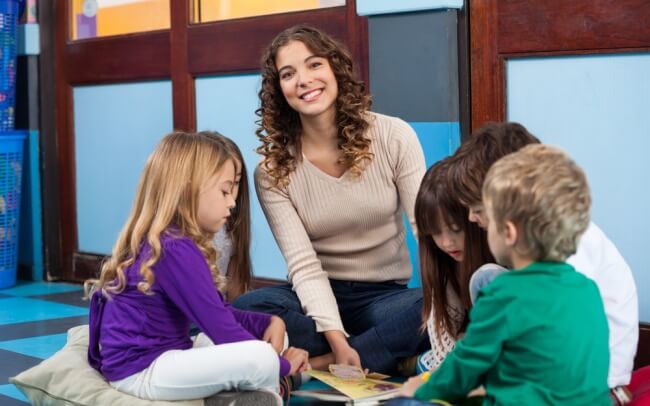 Qualification and compliance with the 21st Century Community Learning Center grant provisions requires accurate, ongoing record keeping. Manually tracking enrollment, attendance, and classes is an administrative task that can take time better given to improving your afterschool program.
EZReports integrated with EZChildTrack childcare management software automates almost every task required for monitoring and reporting on your program to maintain your grant eligibility with your state education agency (SEA).
Overview: 21st Century Community Learning Centers
21st Century Community Learning Centers is a program that originated with the No Child Left Behind Act signed by President George W. Bush. It is now a grant-funding program that provides money directly to the states to disseminate according to established criteria for eligibility. Programs are selected for funding based on the ability to meet student and family needs within the community. Also, each program must show how it connects to the educational priorities of the state.
21st CCLC is expected to provide academic enrichment, an array of services and programs for youth development, drug and violence prevention, and counseling among other things. The aim is to support academic achievement to answer business and employment needs as well as the economy of the community.
As of 2017, 21st Century Community Learning Centers served over 1.5 million children and youth, and the annual cost of the programs averaged $298,000 per grant.
Compliance Requirements for a 21st CCLC Grant
Since the money is distributed to the state, each state has its own program that follows eligibility requirements set forth by the federal government. Here are some examples of eligibility requirements:
Evidence of operation, including staffing, hours, relevance and intensity of subject areas, attendance and retention of participants
Percentage of minorities and ethnic populations, students in poverty, and high-need students
Confirmation of background checks and tuberculosis testing for all employees working with recipients
Timely quarterly performance reports of the sub-recipient
Afterschool programs receiving grant funding from the state must be able to provide a variety of reports to support their continuing eligibility.
How EZReports Can Improve Compliance
EZReports is a powerful, affordable, and comprehensive web-based software solution for managing grant-funded afterschool programs. It meets the data collection and reporting requirements of the 21st Century Community Learning Center program grants and supports compliance with other state and local grant-funding entities.
With EZReports, you can save your program's time and money for:
Effectively managing programs and grants
Focusing on advocacy efforts
Increasing community outreach
Conducting continuous program improvement
These are all goals and activities that get pushed to the side in favor of maintaining the staff needed to collect data and generate reports to qualify and remain eligible for grants.
EZReports simplifies data management for afterschool programs, including data collection, monitoring, and reporting for 21st CCLC grants, ASES, ASSET, and GEAR up funding, and other state and local grants.
As a program director, you have the ability to monitor and manage multiple afterschool programs from a central location, and you can access the data from anywhere using any device with a web-browser. You can generate real-time reports by grant, program, or state, as well as access program data in real-time.
You have everything you need to make better decisions and provide the detailed information required by evaluators and funders.
APR Reporting
The software is compatible with the new 21st APR system. It generates GPR and APR data quickly, and uses built-in data checks to ensure report accuracy. You can set multiple security level accesses and grant different levels of users access to specific data.
For example, you can set up a grantee level user account for the user to generate GPR data for all grants and sites by funding cycle. You can set up a state level user account to generate GPR data on all grantees.
You can also use EZReports to generate APR data by reporting period such as Summer, Fall, or Spring. Generate activity reports based on new activity categories defined in the 21st CCLC APR system. You can also generate staffing reports and activity schedules created in the software previously, and generate participation reports, including family participation tracking.
A warning is generated automatically in all cases if data is missing or incorrect.
Outcome reports are also available for all three GPRA indicators: teacher surveys, school grades, and test scores. You can upload data from day school grades to test scores using MS Excel and use a mobile application to circulate and collect teacher surveys, improving response time and participation.
State Department of Education and Management Reports
EZReports contains more than 40 standard reports for state evaluator, program director, and site coordinator review and analysis.
Analyze multiple student demographic reports.
Aggregate barcode badge scans for registered students and adults.
Review enrollment lists and count reports.
Generate and review survey reports.
Scan demographic and work summary reports for staff and providers.
EZReports also includes state specific reports for multiple states including California, Florida, and Minnesota.
Beyond scheduled, pre-formatted reports, you can generate and export up to 40 different ad hoc reports to Excel and PDF formatted sheets.
Surveys
To survey parents, students, staff, and providers, EZReports offers the ability to customize surveys and send them via email. It's quick and easy to assign students to a teacher and sent the survey to the appropriate person. Respondents can complete the survey online using a tablet, desktop, or smart phone.
All completed surveys are automatically updated in EZReports and the system tracks the progress of survey receipt and sends reminders about incomplete results when necessary.
Training and Support
EZReports is easy to learn and use, but there are multiple technical support tools available to help you and your staff understand the available features and improve productivity.
You can access comprehensive online help tools including training videos, FAQs, user guides, and on-screen help for each page. The integrated web-based technical support system allows you to create support tickets for any issue you have. There is a highly responsive and dedicated support team to review each and every issue, and respond to you within one business day.
Integrate with EZChildTrack
EZReports integrates directly into EZChildTrack childcare and afterschool care management software. EZChildcare shares student demographics and attendance. By using both solutions, you can manage both grant and tuition funded programs with ease.
EZChildTrack is currently being used by over 1,500 schools across the country for online registration, online payments, automated billing, and more.
Take advantage of automation to generate, review, and analyze all the reports and data required to qualify for 21st Century Community Learning Center grant funding from your state, and maintain it with easy data access and reporting from EZReports.