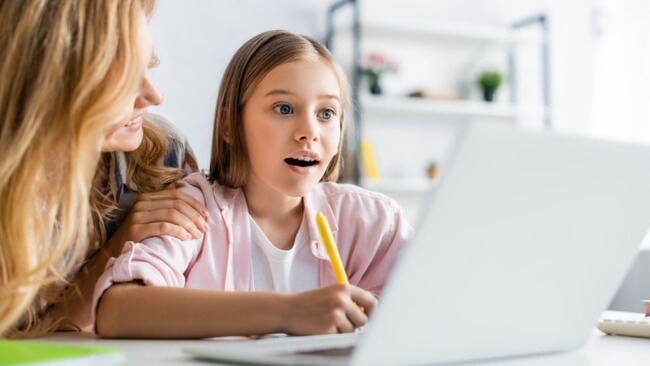 While parents have always been partners in their children's education, this year has required working together with educators more than ever before. Children who face online learning still need plenty of engagement from the adults around them to receive the full value of school lessons.
Here are some online learning tips for parents who are doing double-duty this fall. Making school-time easy and fun for everyone enhances learning and life.
Create a Space and Get the Right Resources
Create a space that promotes learning and reduces distractions. Children need to feel safe, and parents need to help while continuing with their own work.
The space doesn't have to be an entire room. As long as the workspace is comfortable and available when it's "time to go to school," all is well.
Look around your home and ask your child to help find the best space. Some families opt for the kitchen or dining room table. You may be able to make a "throne" out of pillows on a couch where your child can have online video chats. Perhaps a shallow closet can be turned into an "office," where a small table and chair provide a cozy school space.
A corner of a room, a movable crate, and a container of supplies for daily use are all a child really needs to thrive in school.
Get the right resources, too. Find out ahead of time what your child needs to keep up with assignments and make them available. Paper, pencils and pens, a stable WiFi connection — whatever you can do to make schoolwork efficient. Get the space organized so it's ready to go anytime or quickly set up each day.
Use school resources whenever possible, so what your child learns matches the rest of the class and the teacher's expectations. If your child has an ISP or 504 plan, school resources may be critical to the child's success.


Establish Rules and Goals
Even though you might try to emulate the classroom, the rules won't be the same. Establish the rules of "going to school at home," so there is no confusion about expectations. Kids work harder when they know what is required of them.
Make the rules clear, including the consequences of not following them. For example, tell the child you expect them to stay in the chair with no more than two reminders from you. Show them what you mean by staying in the chair. Does it include standing and kneeling on the chair? Explain that staying in the chair is the only way to learn the lesson.
Let your child know that leaving the chair means he or she might not make the goal for the day.
For older kids, control access to electronics and other distractions. While they may need a computer to do their work, tell them that it doesn't mean watching funny videos between every class or (worse) during class.
Set some goals, too. Teachers do this when assigning work, but parents can help children learn to work toward a goal step by step. At the beginning of each day, look with your child at work to be done that day. Show them how to organize their time to get the work done as required and on time.
At the end of the day, help your child check on all work to ensure it has been completed or that the requisite progress has been made.
Develop a Routine
Children appreciate routine. Like all of us, they do better when the steps to get ready for work are ingrained and do not change. Life has been unpredictable enough lately.
Beyond a school routine, keep home routines going as well. Make sure everyone gets plenty of rest, eats properly, and gets dressed in "school clothes" to help remind them of the importance of their activity.
Put systems in place to help your children learn and complete their work. Monitor any process you put in place to ensure it's working as expected. If it isn't, brainstorm with your kids to find a better way. If your children seem to miss assignments, work with them to find out why and how you can improve the process.
Encourage autonomy by asking children to look over the day's requirements and tell you how they expect to tackle the day's work. During this time, you show them how to prioritize, read and follow instructions, and determine the steps needed to get the work done.
Play to Strengths — Theirs and Yours
What is your child good at? If you focus on what your child does well, it helps you find ways to incorporate that strength into learning the lesson. If the child excels at reading and comprehension, finding written resources to help with other subjects allows them to work the best way for them. If the child flies through math, use those skills during science lessons.
How does your child learn best? Some are visual learners, others do better when hearing information, and all usually benefit from doing something to cement a concept in place.
What are your strengths? If you can help with reading and writing, but math is tricky for you, find another resource to help with math. Do you like putting science experiments together, or does it make you feel unsure? See if another adult feels more capable or turn to suggestions from other sources to help you get those lessons done.
Stay Positive
Remote learning is difficult for parents, educators, and children alike. Avoid overwhelming yourself and your children with everything that seems to be going on right now. Staying positive helps your children feel anchored and safe. They look to you to determine how to react to every new situation.
Keep the news turned off during "school" hours and give yourself a break. Show your children how to do the same. Teach them that they aren't expected to control events, just their reaction to them. Help them find a constructive way to work through any worries so they can focus on the rest of their day.
No doubt about it, this year has been awash in challenges. Everyone will make it through. If you set up a safe space and a routine, help your children learn by focusing on their strengths and keeping a positive attitude as much as possible.
Think of it as teaching your family resilience. Adaptation is a strength that can help everyone through life.