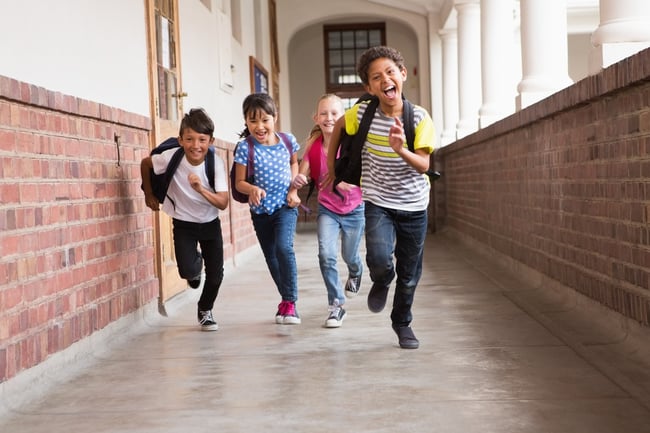 Reducing costs for your after school program may be necessary to stay afloat. The business expenses and costs of operating an after school program continue to rise as prices for supplies, equipment, and other necessities go up while wages remain stagnant.
However, there are potential cost reductions sitting in your budget that could make your after school program leaner, without sacrificing quality of service.
Expense Overview
The typical expense breakdown for childcare is as follows:
Labor: 70%
Occupancy: 14%
Food: 5-12%
Other operating expenses: 9%
Overhead: 2-5%
If you are a for-profit center, you likely have fewer revenue streams than a non-profit. Non-profits tend to have more diverse income streams from state fee reimbursements, USDA food grants, and other public grants along with parent fees and payments for your after school program.
In fact, for-profit facilities received about 88% of their revenue from parent fees as compared to 57% for non-profits.
Labor costs include wages and benefits to employees, including yours as owner even if you draw from net profit instead of paying yourself a salary. Along with these expenses are the hidden costs of administering payroll taxes, benefits, and other withholdings.
Depending on the location of your program, your expenses can include:
Real estate taxes
Mortgage interest
Rent
Utilities
Repairs
Some of these indirect expenses are not a concern for after school programs located within the school itself.
Now, let's take a look at a few places where you can decrease your costs without increasing your rates.
Cost Reduction #1: Tax Benefits
The first thing to remember is that direct expenses are 100% tax deductible:
Food
Toys
Equipment
Insurance
Additional tax savings come from partially tax-deductible indirect expenses:
Real estate taxes
Mortgage interest
Rent
Utilities
Repairs
Cost Reduction #2: Equipment and Supplies
Toys, equipment, office and teaching supplies, and kitchen supplies are items that you can find at lower or discounted prices. Some of these can even be sourced through donations.
Gently used toys and equipment that are not under recall and are in good repair are candidates for your after school program. Toys and equipment for younger children tend to be abundant because their owners age out of them quickly.
You can put out requests for your parents for outgrown items that may be taking up space or that they are ready to pass along.
You can approach local businesses for donations of office, kitchen, and teaching supplies if your facility is not located in a school or if your contract with the school does not include supplies.
If you are not able to obtain everything you need through the donation process, you can negotiate discounts from bulk sellers and retailers who may be willing to provide your needs at a lower price or as a tax-free purchase.
Cost Reduction #3: Insurance
Insurance comes with the territory.
Property and casualty
Worker's compensation
Childcare business liability
And more
Not all insurance provides the same coverage or comes at the same cost. If you shop around, you may be able to find an insurance company that can give you more value for your dollar.
Insurance companies provide discounts for lowering your risk of certain liabilities. For example, if you can improve safety, the insurer can expect to pay out less for accidents. You can lower your premiums by providing a safe facility and maintaining a good safety record.
Some things you can do to get started:
Child-proof every room or area if you care for very young students.
Require your staff (and you, too) to receive CPR and first aid training.
Hire responsible teachers and assistants.
Develop clear health and safety policies and make them accessible. Post them and give them out to parents at enrollment and registration.
Keep aisles, halls, and stairways clear.
Avoid fire hazards.
Install a security system to detect and deter crime.
Cost Reduction #4: Staffing
We are not advocating cutting staff wages or benefits. You need to continue to pay competitively or risk losing talent to other childcare facilities. We are saying that taking advantage of volunteers is a cost-free way of bringing in responsible people to assist the teachers with their charges.
Prime areas to seek volunteers include:
College kids
Fraternities and sororities
Girl Scouts, Boy Scouts, and other service groups
Junior League
Foster Grandparent program
Senior citizens groups
Armed forces bases
Training programs for early childhood development and teachers
You may be required to pay for safety training and background checks, but if done along with new hires, you may be able to negotiate a discount. As a bonus to the volunteers, they will have a recent safety training and background check certificate they can use to apply for other volunteer opportunities involving youth.
Out of Cost Reductions? The Pros and Cons of Raising Your Rates
This is last on the list because it is one that can be the most difficult to implement.
If you raise your rates, you will have more revenue, maybe even a little more prestige if your facility is in an area where price counts. In some cases, the only increase you need may be in one of your fees. You can justify it with an honest explanation to parents.
For example, you have been charging a fee to offset your certification costs and certification has suddenly increased. You may be able to pass along the increase to parents at registration. For those who were with you previously, explain that the cost of maintaining your certification has increased and, rather than raise tuition, you raised the fee.
Before you increase any rates, though, you need to revisit your needs assessment that you performed when you opened. Determine whether the parents in this community can afford a rate increase. You should include research on the rates other after school programs in the vicinity are charging.
Be aware of the tax credits available to parents and use it as a negotiation point. Contact the IRS or check the IRS website to get the most up-to-date information and make it available to parents.
Some programs create a sliding fee that depends on the number of children in care from one family and the parent's income level.
Raising your fees could price some of the parents out of your after school program. In areas with little to no after school care available, this could cause more problems than a lost client.
Not that losing clients is good for your business either. You need to balance the need for you to increase revenue with the probability of lost customers. You also need to remain in compliance with any licensing or certification programs required by your state and municipality. Limits on childcare rates may be part of the regulations.
After school programs require a certain level of investment and incur their share of regular costs. There are a variety of ways to reduce some of those costs and find other revenue streams if necessary. Looking for donations and discounts as well as carefully considering rate increases will help you keep your program running efficiently.